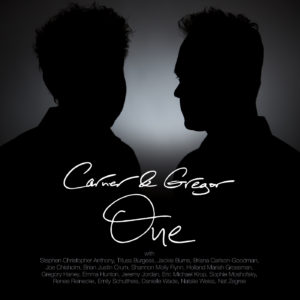 We're thrilled to be releasing our first album, "Carner & Gregor One" on June 15th! It's the culmination of several years of work with our band and our amazing singer friends, including Jeremy Jordan, Tituss Burgess, Natalie Weiss, Jackie Burns, Eric Michael Krop, Brian Justin Crum, Emma Hunton, and many more.
The album will be available on iTunes, Amazon, CDBaby, etc. starting June 15th, but you can also get it in-person at our $1 album release show at (le) Poisson Rouge!
"Carner & Gregor's One Dollar Album Release Show" will take place on June 15th at 7pm at (le) Poisson Rouge, 158 Bleecker St., in NYC.
It will feature incredible performer friends including:
Stephen C. Anthony (The Book of Mormon, Catch Me If You Can)
Kathryn Boswell (Gigi)
Lilli Cooper (Spring Awakening, Wicked)
Prisca Demarez (CATS in Paris, Avenue Q in Paris)
Gregory Haney (Bring It On, Wicked)
Derek Klena (Bridges of Madison County, Dogfight)
Andrew Kober (Les Miserables, Hair)
Sophie Moshofsky
David Perlman (Baby It's You, Yank!)
Mj Rodriguez (Rent)
Emily Schultheis
Sarah Stiles (Hand to God Tony Nom., Avenue Q, etc.)
Natalie Weiss (Everyday Rapture, Breaking Down the Riffs)
Teal Wicks (Wicked, Finding Neverland)
Nat Zegree
Hannah Zazzaro
And, in case this wasn't clear, admission is just ONE DOLLAR! To reserve your ticket, CLICK HERE
ALSO, at this one event only, "Carner & Gregor One" will be available PAY-WHAT-YOU-WILL! One cent or One Thousand Dollars, it's all up to you, but you'll walk away with one dynamite recording!