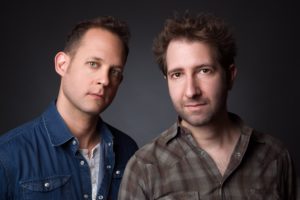 Sam Carner and Derek Gregor, among Playbill.com's 12 Contemporary Musical Theatre Songwriters You Should Know, won the Richard Rodgers Award and the John Wallowitch Award for songwriters under 40, and Sam won the Kleban Prize for "Most Promising Librettist." Their songs, which have garnered 11 MAC nominations for "Best Song" / "Best Comedic Song" with one win, are performed in hundreds of venues around the world every year and have been sung on all seven continents (including Antarctica).
Their musical UNLOCK'D was produced Off-Broadway at the Duke Theater in the summer of 2013 ("gorgeous" –NYTimes "Astounding, enveloping" –Talkin' Broadway). Previously UNLOCK'D was produced at the New York Musical Theatre Festival in 2007, where it won the "Best of the Fest" audience prize and received Talkin' Broadway citations for "Outstanding New Musical" and "Outstanding Original Theatrical Score." UNLOCK'D is slated for production in early 2018 at Houston's Queensbury Theatre.
Their musical ISLAND SONG, which boasts seven MAC-nominated songs, was produced at the Adirondack Theatre Festival ("tuneful, lyrically smart, and full of heart… an uncountable number of bright, funny lyrics… superb" –Albany Times Union), the Bloomington Playwrights Project ("mesmerizing… vibrant, supercharged" –Herald Times), London's Rose Bruford College, with productions slated for 2017-18 at Oakland University, London's Hidden Theatre, and more. ISLAND SONG has been performed in workshop or concert at the Balagan Theatre in Seattle, the Indiana Festival of Theatre, Princeton University, Western Carolina University, (le) Poisson Rouge in New York, Crawfish in Tokyo (in Japanese), the Comedie Nation in Paris, London's St. James Studio, and many more.
Other current projects include TOAST, a jazz/electro-pop fusion musical set in post-Katrina New Orleans (developed at the Bloomington Playwrights Project, Coastal Carolina University, and the Johnny Mercer Colony), an adaptation of an ABC television series to be announced, additional songs for SHEILA LEVINE IS DEAD AND LIVING IN NEW YORK (original songs by Michael Devon, book by Todd Graff, directed by Susan Stroman), and an adaptation of Emma McLaughlin's and Nicola Kraus's New York Times best seller DEDICATION.
Sam and Derek's special material include the children's musical LOVE, SPLAT, which has been touring the US since 2013 in the TheatreWorks USA revue THE TEACHER FROM THE BLACK LAGOON AND OTHER STORIES, "Sleep Song" for Cait Doyle's HOT MESS IN MANHATTAN (Araca Project 2012, etc.), "Eleven O'Clock" for Unsung Musicals' THE PASSING SHOW, "Hard Candy" and "You Inspire Me" for the popular web series MY GAY ROOMMATE, and "Redheads Unite" for REDHEADS ANONYMOUS (Indie Series "Best Song" nomination). Their ten-minute musical Flash-Priest was presented by the Prospect Theatre Company in RITES OF PASSAGE in the spring of 2012.
They also created the "Barely Legal Showtune Extravaganza" series, which brought some of the country's most talented college performers to New York every summer for a blow-out concert, and concerts dedicated to their work have been presented at dozens of venues around the world, including Lincoln Center, Feinsteins's/54 Below, the New York Musical Theatre Festival, St. James Studio and Matcham Room in London, Kompact Theatre in Brighton, the University of Michigan, Baldwin Wallace University, Colorado Mesa University, Oakland University, Roosevelt University, Edge Hill University, and many more.
Sam Carner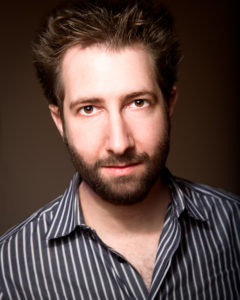 Sam Carner won the 2015 Kleban Prize for Most Promising Librettist. He received his BA from Yale University and received his MFA from NYU's Graduate Musical Theatre Writing Program on a Departmental Fellowship.
In addition to his work with Derek Gregor, Sam wrote the children's musical BARNYARD FOLLIES as a commission for the Children's Theatre of Maine. BARNYARD FOLLIES won the Moonlit Wings International Playwriting Festival and was presented at children's camps around the DC area in the summer of 2017, going on to a production at the Perth Youth Theatre in Australia, with more productions slated around the US for 2018.
His one-act play, BRADY, was performed at the University of Southern Maine, and his 1920′s-style college musical, JUST CALL ME ELI! won the John Golden Prize for Best Original Musical by a Yale Undergraduate in 2000.
Over the past several years, Sam has lectured regularly on various musical-theatre-related topics at Yale. Sam has taught Musical Theatre History and Analysis at NYU and Yale and songwriting at NYU.
Derek Gregor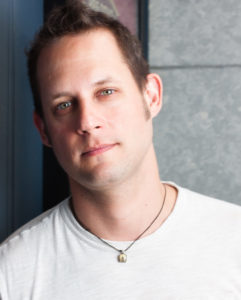 Derek Gregor received his BA from Skidmore College and his MFA from the NYU Tisch Graduate Musical Theatre Writing Program.
In addition to his work with Sam, Derek writes pop and country music with Selda Sahin (www.seldaandderek.com), and their work is performed frequently in Nashville, Los Angeles, and New York.
Derek and Selda wrote the score to the movie musical GRIND and the children's musical HE SAID, SHE SAID, which toured the east coast in 2016.
He has written country music with Laura Bell Bundy, and one of their songs was recently featured on her CD, LONGING FOR A PLACE ALREADY GONE. He was a founding member of the rock band, M-Lab, which released the albums A BOLD AND HOPEFUL SPARK and FROM BASER ELEMENTS.
Derek has taught songwriting at NYU.