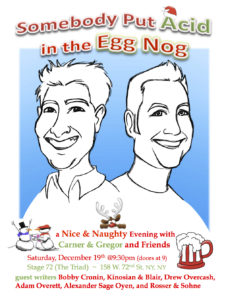 Join us on Saturday, December 19th for our first ever holiday show, SOMEBODY PUT ACID IN THE EGG NOG – a NICE and NAUGHTY Evening with Carner & Gregor and Friends.
And what are the holidays without friends? Some of our favorite young writers will be joining us to share some original holiday songs alongside some of our new holiday songs and a pair of mini holiday musicals!
The evening will be hosted by the delightful and hilarious Ben Cameron (Broadway Sessions, Wicked) and will feature amazing guest stars, including Broadway legend Carole Demas (Original Sandy in GREASE, The Magic Garden) Youtube sensation Natalie Weiss (Breaking Down the Riffs, Everyday Rapture), Sebastian Hedges Thomas (Kinky Boots), William Thomas Evans (Scarlet Pimpernel, A Tale of Two Cities), Tyler McKenzie (Mamma Mia), Doug Shapiro (Once Upon a Mattress), Drew Arisco, McKenna Cox, Theo Dolan, Christopher Gilroy, Mike I. Haber, Carly Kincannon, Andrew Mayer, Jake McKenna, Elyse Moon, Samantha Parrish, Danielle Porcellini, Stephanie Sequeira, and Kevin White.
Our brilliant guest writers include Bobby Cronin, Kinosian & Blair, Drew Overcash, Adam Overett, Alexander Sage Oyen, and Rosser & Sohne.
Featured performers include
Festivities are at 9:30pm (doors at 9) on Saturday, December 19th at the lovely Triad Theatre (aka Stage 72) at 158 W. 72nd St. in New York City. Tickets are $12.25 (get it?)
CLICK HERE FOR TICKETS AND INFO. It'll be a super-fun evening, and we hope you can join us!