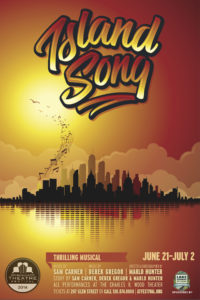 We're thrilled that the Adirondack Theatre Festival will be presenting our musical ISLAND SONG this summer.
The production will run June 21 through July 2 at the Charles R. Wood Theater in beautiful Glens Falls, NY. For tickets and information, go to: www.atfestival.org/event/island-song
The production will be directed by Marlo Hunter and musical directed by Vadim Feichtner. The cast will feature Kathleen Monteleone (Hands on a Hardbody, You're the One That I Want, Legally Blonde), Aaron Galligan-Stierle (Ragtime, Grinch…, Phantom of the Opera), Madeline Trumble (Newsies, Mary Poppins, Wicked), Philippe Arroyo, and Emily Schultheis (Wicked).
ISLAND SONG follows a year in the lives of five New Yorks and the loose connections that bring them into each others' lives at moments that become pivotal. The score includes "Sing, But Don't Tell," "Wall Lovin'," "Stay Awhile," "Make It Here," "After Hours," "So Far From Pennsylvania," "New York, Do You Care?" and many more, including 5 MAC-nominated numbers.