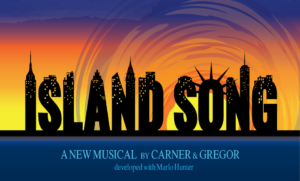 We've been overwhelmed by the response to the ISLAND SONG studio cast album, which we released last fall, and thrilled by all the productions that groups have been mounting around the world! 3 groups have already produced ISLAND SONG in New York City this year, including the Circle in the Square Theatre School and Smallest One Productions. Three productions have already taken place in England. Other productions have happened or are contracted for later this year in Bologna, Tokyo, Singapore, Ontario, and at dozens of colleges, high schools, and theatre companies around the US.
If you're interested in bringing ISLAND SONG to your community, we hope you'll check out the page on this site at www.IslandSongMusical.com for more information, production stills, and a free copy of the album–and email us on our CONTACT PAGE to let us know about what you'd like to do and how we can help!
ISLAND SONG has a flexible cast size from 5-19+, no physical production requirements, a flexible band size, and is available in more family-friendly high school editions. Plus, by making the materials available digitally, we can keep licensing and materials costs low. We hope you'll reach out and say hello!