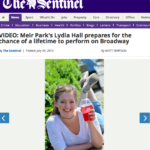 There have been articles around the world about this year's Barely Legal Show-Tune Extravaganza and our amazing young cast. Check out this one from Stoke, England about 2014 Barely Legaler Lydia Hall (Academy for Theatre Arts, Stoke-On-Trent '14).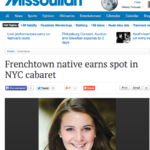 Check out this one from Missoula, Montana about 2014 cast member Morissa Trunzo (Point Park '16)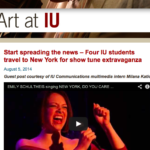 From the Indiana University paper, click here to check out this article about IU 2014 Barely Legal participants Kayla Eilers ('16), Mia Fitzgibbon ('16), Emily Schultheis ('15), and Nat Zegree ('15).
The 2014 Barely Legal Show-Tune Extravaganza will take place on Thursday, August 21st at 7pm and 9:30pm at 54 Below (254 W. 54th St., New York, NY). For tickets and info, CLICK HERE